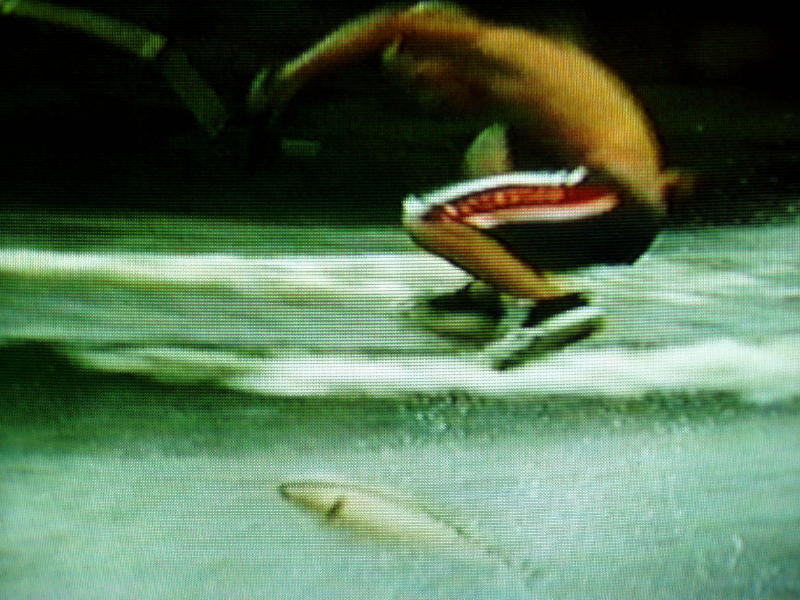 "Alexx, i think it was you who wanted to see it. And maybe top hat (forget the formalities, I'm dropping the Mr.!) came through with his tivoed edition. Whateves, bros...
Anyway, yeah, proper credit needs to be given to the old wakeboarding video titled "boardumb." If you aren't too cool to watch randy harris and scott byerly shred on the old wake techs, this video is a lot of fun to take in...it was one of my personal favorites of the time. It made riding look fun, straight up. It, of course, has a legendary section from thomas that has a little bit of wakeboarding and a little bit more wakeskating. It's comprised mainly of wake to wake stuff--360 degree spin variations all hit up wake to wake. But there's some entertaining bomb drop attempts off of a boat house roof, a 3 shuv, and of course, the kickflip. Ahh, and in case you can't tell, it was all done on a cut down wakeboard (see sequence below).
If you're all about collecting everything or just checking it out, bad ass also put out a video called "fire it up" which also has thomas' kickflip in it (I reckon it's the same one from a different angle). I actually just watched the "wake skate" section and I'd highly recommend it to anyone that has a sincere interest in this stuff. You can kind of witness a style shift, as thomas and drew are hitting their stuff up with shoes and grip (oh, and drew was boosting hard!), and then byerly is still on his blunt that's kitted out with every bad ass accessory imaginable, including some sort of hook attachment. Randall and bruce clem rock out (barefooted) on the original "waterskate" with FWT traction pads as well. (FWT=hawt!) As a whole, there's a short section of wakeskating in that vid...it's mostly wakeboarding, but well worth it anyway (to me, at least).
This footage was captured using only the best editing tools known in the media industry. I hope you enjoy the quality. "
Wakeskating.com Thread