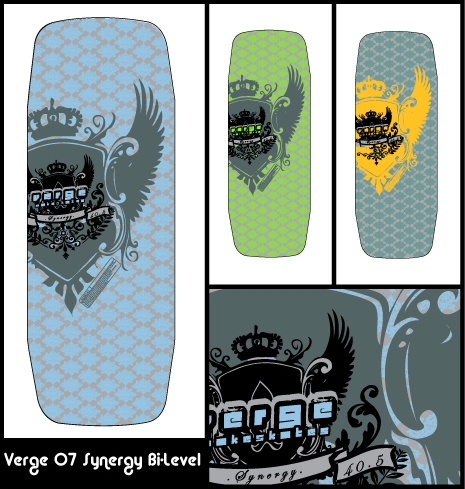 "After a long time of testing and design work, our new 07 bi-level is almost ready to go. Theres a lot of upgrades from last years model and an overall better ride.
Heres the new stuff and specs:
- New shape, slightly shorter mid width ( for better rotation flip tricks) and wider kicktails for more leverage off the water and better release on tricks. Also good for bigger shoes aka feet.
14.75" mid width
12" tip widths
40.5" length
- New ultra tough Dura-surf base for more durabilty on sliders and everday wear and tear. Also, bottom is totally smooth, no protruding hardware, or even countersunk hardware.
- Slightly lighter weight than last year at around 12 lbs
- Stainless oversized hardware
- .85" fins optional for more control on the water
- New graphics
Overall, this board is deffinitely our best yet.
Let me know which color graphics you guys like best. Right now im liking the light-blue background one, but im not sure yet. they should be up and ready for sale in about two weeks. Thaks for takin a look. "
Verge Wakeskates
Wakeskating.com Thread