"30 of the best wakeskaters in the world threw down big-time today for the Rockstar Cable Jam, the second stop on the Byerly Toe Jam Wakeskate Tour, at the TSR cable park in New Braunfels, Texas.
Not much was expected out of the riding, due to high winds in the area, however it had little impact on the riders, with impressive runs in every heat. Some standouts were Nick Taylor's backside 360 off the kicker, George Daniels' boardslide kickflip off the incline rail, Drew Danielo's huge shove indy over the Liquid Force transfer box, Brian Grubb's deadly consistent riding, Bret Little's high ollie to shove off the transfer box and Reed Hansen's kickflip and varial flip.
Event producer Scott Byerly was amazed at the level of today's riding and is looking forward to the upcoming two days of competition. "Everybody's throwin' down even though it's windy. Hopefully it will calm down, but either way, these kids are ripping." Byerly would like to thank the sponsors for their incredible support and excitement for the Toe Jam tour during its first nationwide tour. The Rockstar Cable Jam is made possible with the help of Rockstar Energy Drink, Nike 6.0, Billabong, Liquid Force, and the TSR.
Friday's action starts at 11 a.m. with the top 16 riders competing in a bonus wake competition behind the MasterCraft X-Star at TSR's private competition lake. Saturday will be the cable final. For more info, go to
www.byerlytoejam.com
."
RESULTS
(Top two in each heat advance – 16 total)Wakeskate (all levels)

Qualifying Round Heat #: 01

1 Doyle, Ryan CAN 73.33
2 Hair, Austin USA 56.67
3 Byerly, Scott USA 40.00
4 Watson, Reed USA 33.33

Qualifying Round Heat #: 02
1 Grubb, Brian USA 63.33
2 Hanson, David USA 60.00
3 Reed, Aaron USA 45.00
4 McGuckin, Drew USA 20.00

Qualifying Round Heat #: 03
1 Taylor, Nick USA 70.00
2 Balzer, James CAN 60.00
3 Gee, Collin USA 50.00
4 Hooker, Matt USA 40.00

Qualifying Round Heat #: 04
1 Danielo, Drew USA 70.00
2 Kaiser, Ben USA 66.67
3 Paulson, Gabe USA 43.33
4 Yarbrough, Ouri USA 26.67

Qualifying Round Heat #: 05
1 Daniels, George USA 76.67
2 Cambell, Steven USA 66.67
3 Gregory, Chase USA 56.67
4 Manzari, Matt USA 46.67

Qualifying Round Heat #: 06
1 Shinn, Stuart USA 80.00
2 Gardner, Ross USA 61.67
3 Tompkins, Clint USA 58.33
4 Collinge, Chris USA 40.00
Wakeskate (all levels)
Qualifying Round Heat #: 07

1 Pastura, Andy USA 73.33
2 Thomas, Brandon USA 70.00
3 Ruark, John USA 58.33
Wakeskate (all levels)
Qualifying Round Heat #: 08
1 Little, Bret USA 73.33
2 Hansen, Reed USA 71.67
3 Hyams, Kyle USA 56.67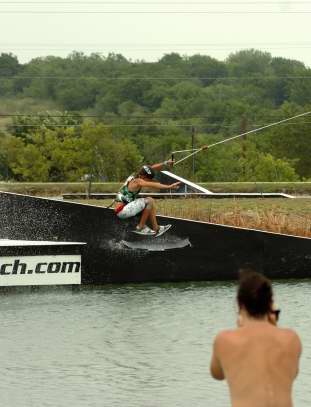 Source: Wakeskating.com
Wakeskating.com Thread